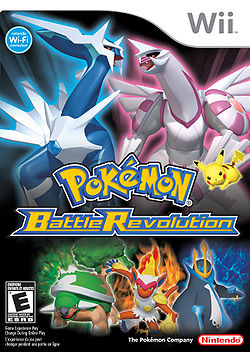 Pokémon Battle Revolution (Japanese: Pokémon Battle Revolution) is the first Pokémon game on Nintendo's Wii console. It supports connectivity with the Nintendo DS, allowing Trainers to battle using their Pokémon from the Generation IV main series games while using their Nintendo DS as a controller.
Pokémon Battle Revolution features eleven different colosseums in a new land named Pokétopia. Other features include stadiums that have their own special effects, such as randomizing the order of one's Pokémon.
Ad blocker interference detected!
Wikia is a free-to-use site that makes money from advertising. We have a modified experience for viewers using ad blockers

Wikia is not accessible if you've made further modifications. Remove the custom ad blocker rule(s) and the page will load as expected.